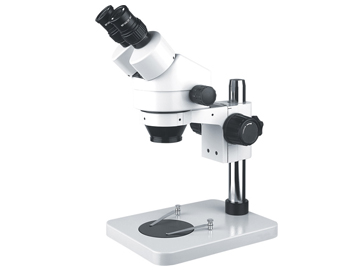 Zoom7045 with plain stand
1, Zoom7045 Series Zoom Stereo Microscope High quality optical performance, various accessories and diversified combination specification. To meet high-precision requirements on modern biology, medicine, scientific research, inspection lines in modern electronics and other technology industries.

2, High quality optical system, and optical components coated with special coating created a high-quality optical system.

3, Standard magnification 7X~45X. Use optional auxiliary lens, the magnification can be 3.5X~180X.

4, Long working distance to create enough space for the uses.

5, Suit to ergonomic design, feel less fatigue when long time use.
Technical Specifications
eyepiece

high eye point wide field eyepiece WF10X/20mm ( can be mounted micrometer )
high eye point wide field eyepiece WF15X/15mm ( can be mounted micrometer )
high eye point wide field eyepiece WF20X/10mm ( can be mounted micrometer )

observation head

Zoom7045: binocular head , 45 ¡ã tilt, continuous zoom lens 0.7X-4.5X, working distance 100mm. pupillary distance adjustment range of 54mm-76mm, depending on the degree of bilateral adjustable ¡À 5 diopter .
Zoom7045TR tee viewing head . 45 ¡ã tilt , 360 ¡ã rotation ; photographic camera can be equipped with the interface
Zoom7045V digital viewing head , built-in 3 million pixel CCD

auxiliary lens

0.5X/165mm. 1.5X/45mm. 2X/30mm.

focus brackets

A1 focus frames, focusing hand wheel adjustable elastic , lifting range 50mm.
A3 industrial binding Focus Frame 2 ( industry-specific )

base

A2L Column LED light base

other external sources

ring light / LED light / cold light illumination

photography device

Photography connected tube ( with PK bayonet ), 3.2X photo eyepiece

imaging device

0.35X/0.5X/1.0XC type camera connected tube